BUILDING PRECISION METER/MIX
DISPENSE SYSTEMS
Welcome to EXACT Dispensing Systems
EXACT Dispensing Systems designs and builds meter-mix dispensing solutions for a variety of manufacturing markets worldwide. As one of the leading dispensing system manufacturers, we offer a full line of meter mix dispensing equipment and adhesive dispensing systems for various applications including potting and encapsulation, bonding and sealing, molding and more.
Technical Expertise
Our highly experienced Tech Support staff understand the ins and outs of machine operation as well as the many external factors that affect them. Additionally, we maintain database files on all machines we ship to customers. We can help you keep your dispensing system running – providing years of dependable service.
Custom System Solutions
Our engineers have more than 60 years of collective experience and are always willing to spend the time necessary to understand your unique, individual application and provide a solution that will work. Whether your dispensing needs are simple or complex, single component or two components, we are committed to finding the best solution for your application. As dispensing system manufacturers, our ultimate goal is to improve your productivity, efficiency and product quality.
Customer Service
We've gained a reputation for going above and beyond – just read what our clients say about us! You'll always get the parts & systems you need, when you need them, at a fair price.
For additional information or assistance with our meter mix dispensing equipment or adhesive dispensing systems, please give us a call at 207-563-2299 or request a quote here. We look forward to helping you find the perfect solution for all your dispensing needs.
About our Company
"You guys are the best equipment supplier we have. It's crazy how hard it is to get a response from some of the others."

- William Fluegel, Sr. is Process Technician | Decagon Devices/Meter Group

"EXACT Dispensing Systems has been working closely with American Filtration for over 11 years and during that time have always supplied as promised. This professional, intelligent and friendly group of people truly make our jobs a lot easier. We look forward to many years of continued service!"

- Mark VanHalle, Vice President of Operations, American Filtration Technologies

"We are very satisfied with the urethane dispensing system we purchased from EXACT Dispensing Systems. It is easy to operate and very precise. The system requires little maintenance and your qualified staff are always available to answer our questions or recommend improvements. We would strongly recommend your company to other industries."

- Daniel Meunier, President, Transformateurs P.M.

"Aerospace Systems has had an EXACT Model 9450 double acting meter mix and dispense system for over 9 years now and the reliability of the machine is outstanding. The EXACT machine is also very durable and since we have purchased it, we have had very minimal repairs. Not only from my standpoint but from the operator's standpoint as well, we would rather use the EXACT system over the other machines…hands down."

- Jeremy Coulson, Engineering Technician

"We have been satisfied with the engineering, technical support and professionalism of EXACT Dispensing Systems. We purchased the first of several systems in early 2005 and will continue to rely on EXACT for years going forward."

- Tim Higgins, Manufacturing Equipment Supervisor, TASER International, Inc.

"EXACT Dispensing Systems has elevated the process of manufacturing to an art form."

- Lonnie Lenarduzzi, Chief Scientist, Plasmatronics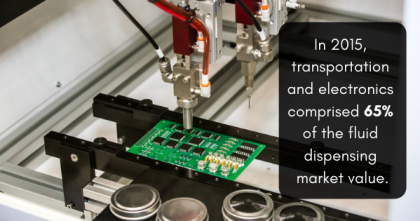 March 29, 2019 - 0 Comments
In 2015, transportation and electronics comprised 65% of the fluid dispensing market value. Industry aside, if your business relies...