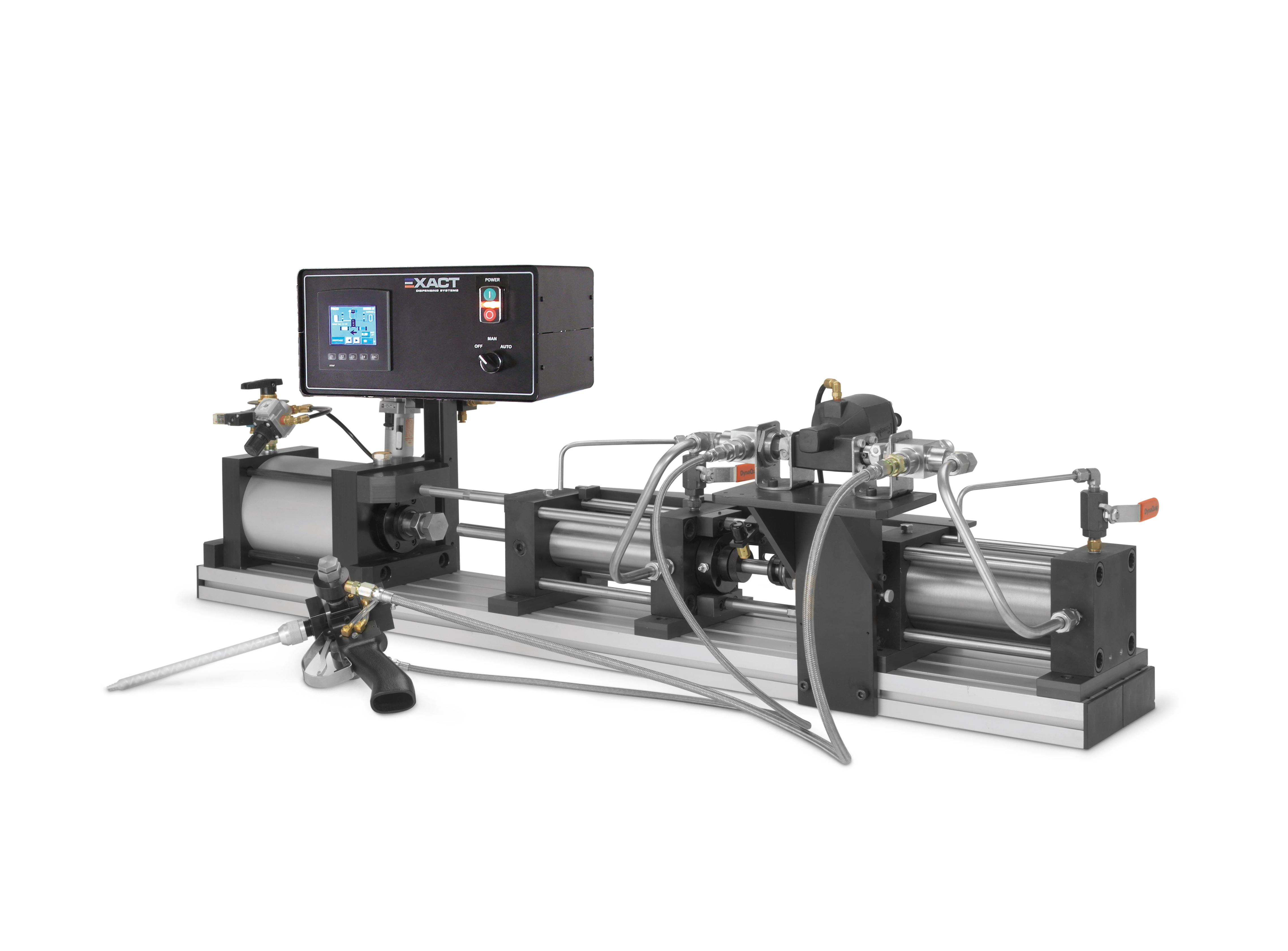 9450 Single Acting Dispensing System
Designed for production dispensing of two-part reactive resin formulations including abrasive fillers which settle out of suspension.
Specifications
Bore (Major Component): 3.500" diameter
Stroke: 6"
Full Stroke Volume (1:1 ratio): 61 fl. oz/1805 cc
Overall Length (Baseplate): 60.5"[/tcol]
Features
Custom bore sizes and ratios to fit your EXACT ratio requirements.
Positive displacement piston metering for consistent, accurate delivery of A and B materials. Ratio is assured by honed cylinder diameters.
Precision LDV (Linked Diverting Valves) eliminate problems caused by inconsistent check valve logic.
Low cycle rate for improved wear and longevity.
Stainless steel, PTFE, cryogenically treated tool steel and hard coated nickel components ensure long lasting performance, even with abrasive materials.
Manual ("eyeball") or controlled dispensing.
System design isolates materials until they enter the dispense manifold and disposable mixer.
Inexpensive disposable mixing. No solvent flushing required.
---
Integrated Systems
EXACT's engineers will work with your team to integrate EXACT dispensing equipment with your line.
Motion platforms
Robotics
Conveyors
Vacuum chambers
Videos
Options
Custom Peripherals
Encoder: For critical applications requiring precision volumetric shot size.
Accuracy: 0.0008" of cylinder stroke. (.0004" optional)
Supply Pumps: Wide range available for use with 5 gallon to 55 gallon containers. Air assisted ram for heavy or viscous liquids.
Heated hoses: Up to 20 feet
Tanks:
Vacuum Degassing
8 - 60 Hallons (Custom sizes available)
Digitally Controlled Heated Blankets to 200°F
Agitation-Pneumatic or Electric
Nitrogen Blanket for Moisture Sensitive Materials
Level Controls
Sight Windows
Portable skids/carts - Engineered to your application to provide whatever mobility required
Booms, festoons, Tool balancers, and more
Tables and Work Surfaces
Upgrades and Retro-fit