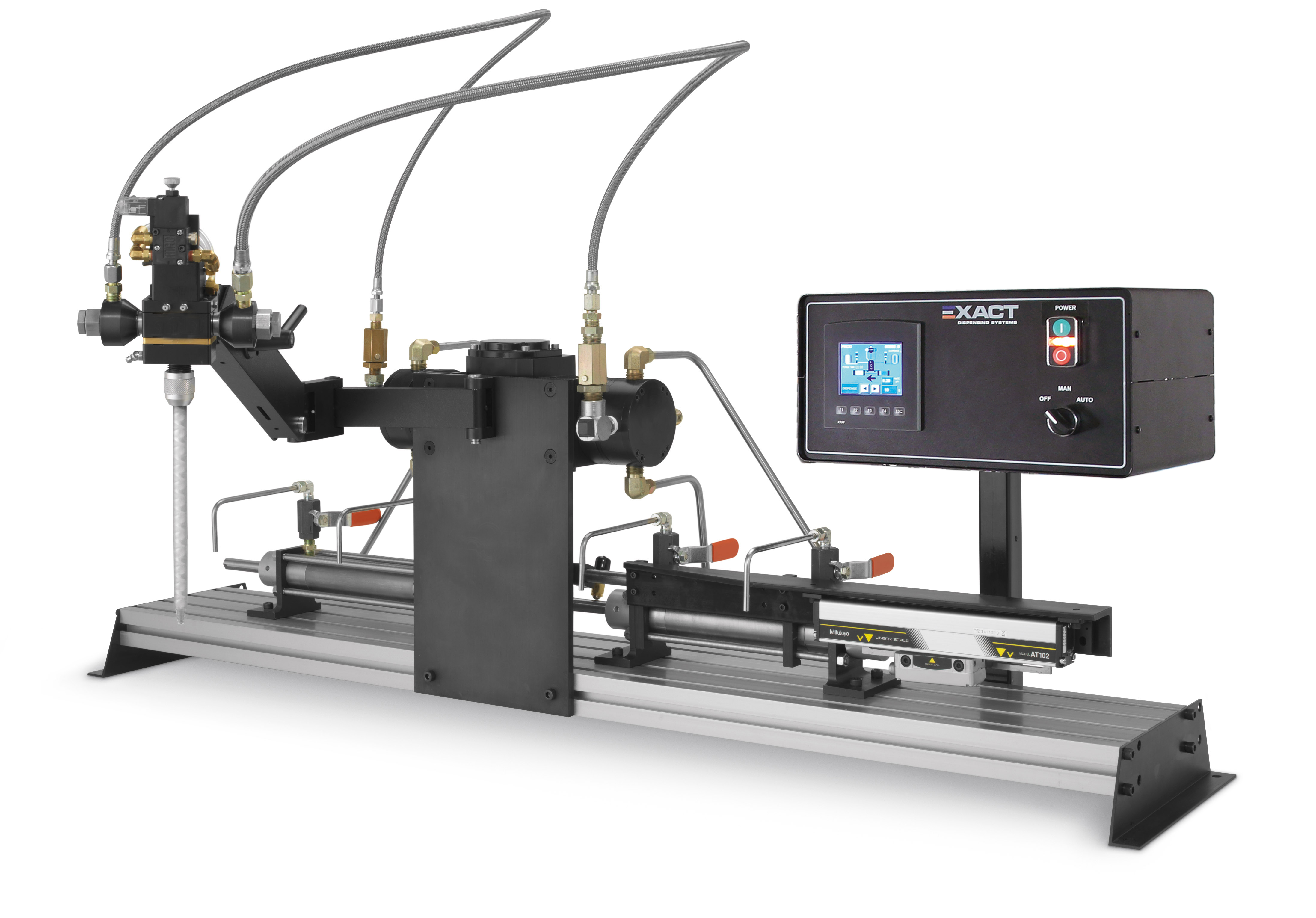 Model 1450 Double Acting Dispensing System
Designed for intermittent/continuous dispensing of two component epoxies, urethanes, silicones, polysulfides and others.
Specifications
Bore (Major Component): 1.500" diameter
Stroke: 5"
Full Stroke Volume (1:1 ratio): 8 fl. oz/239 cc
Overall Length (Baseplate): 53"
Overall Length (with Encoder): 55"
Features
Wide range of bore sizes and ratios to satisfy your production requirements.
Positive displacement piston metering for consistent, accurate delivery of A and B materials. Ratio is assured by honed cylinder diameters.
Precision Linked Diverting Valves (LDV) eliminate problems caused by unreliable check valves.
Low cycle rate for improved wear. Multiple process shots per stroke.
Stainless steel, PTFE, hard coated nickel and Cryogenically treated components ensure long lasting performance, even with abrasive materials.
Manual ("eyeball") or precise volumetrically controlled dispensing.
Mixer manifold isolates materials until they enter the disposable mixer.
Inexpensive disposable mixing. No solvents.
Material is pressure fed from tanks or pump fed from 5 gallon pails, 55 gallon drums, or other bulk containers.
Encoder: For critical applications requiring precise shot size. Accuracy to .0008" of cylinder stroke. (.0004" optional)
Pumps: Wide range available for use with 5 gallon to 55 gallon containers. Air assisted ram for heavy or viscous liquids.
Heated hoses: Up to 20 feet.
Tanks:
Vacuum Conditioning
1 Quart to 30 gallons
Digital or "Dial set" heat
Agitation-pneumatic or electric
Nitrogen blanket for moisture sensitive materials
Level controls
Sight "View" Windows

Systems Integration: Interfacing of EXACT dispensing equipment with your process.
Portable skids/carts: Engineered for your application and process, offers mobility for remote task requirements.
[table "" not found /]