EXACT Exchange Newsletter Q2 2018
New Solutions & Integrations Expanding EXACT's Product Portfolio
EXACT Dispensing Systems is excited to introduce to our network of end users, material suppliers and associates an impressive list of new solutions. These solutions are upgrades to our existing proven products while others expand the range and reach of our capabilities. Below is a list of what is coming up.
UR Collaborative Robot Integrator:
EXACT Dispensing is now a fully authorized integrator for dispensing applications of the Universal Robots (UR). EXACT has shown to UR that we have a unique roll to play in bead dispensing applications. The EXACT team not only has a great understanding of bead dispensing of one and two-component materials but great ability to integrate this knowledge with increasing levels of automation!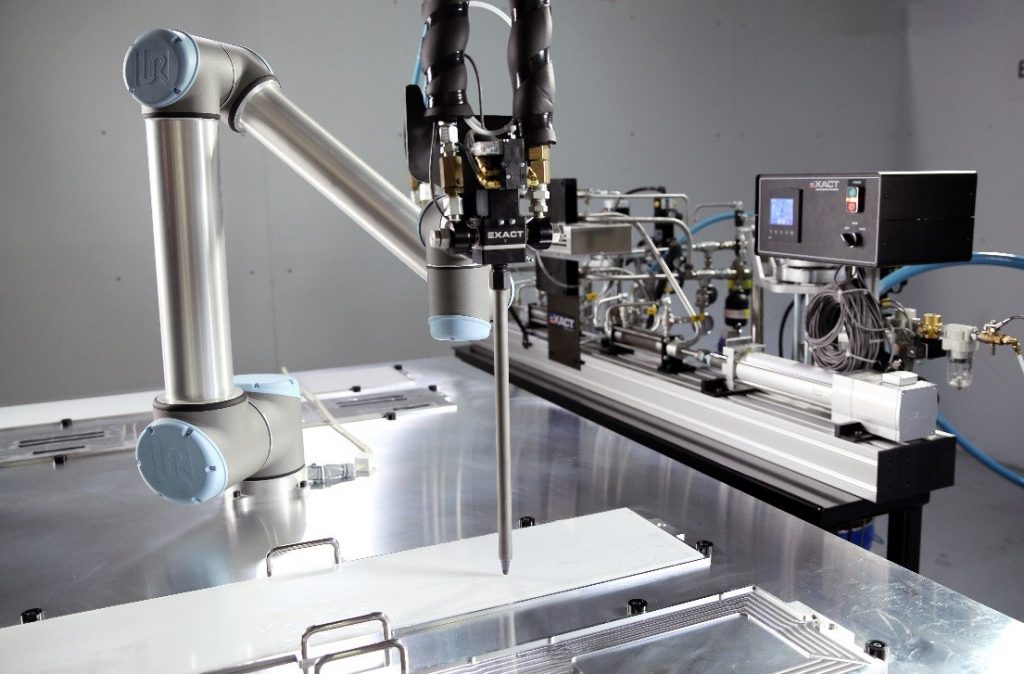 BEADMASTER Servo Drive Meters:
EXACT is excited to be complimenting the new collaborative robot capability with an expanding BEADMASTER product line. The BEADMASTER is now available with both pneumatic drive options and high precision servo driven capabilities. The offering is for both single and plural component urethanes, epoxies and silicones. Also is available in DA – "Double Acting Continuous Flow" options as well as SA – "Single Acting" options when abrasive wear or higher specific gravity materials are used. These solutions are critical for some of the new bead dispensing robot designs being sold today.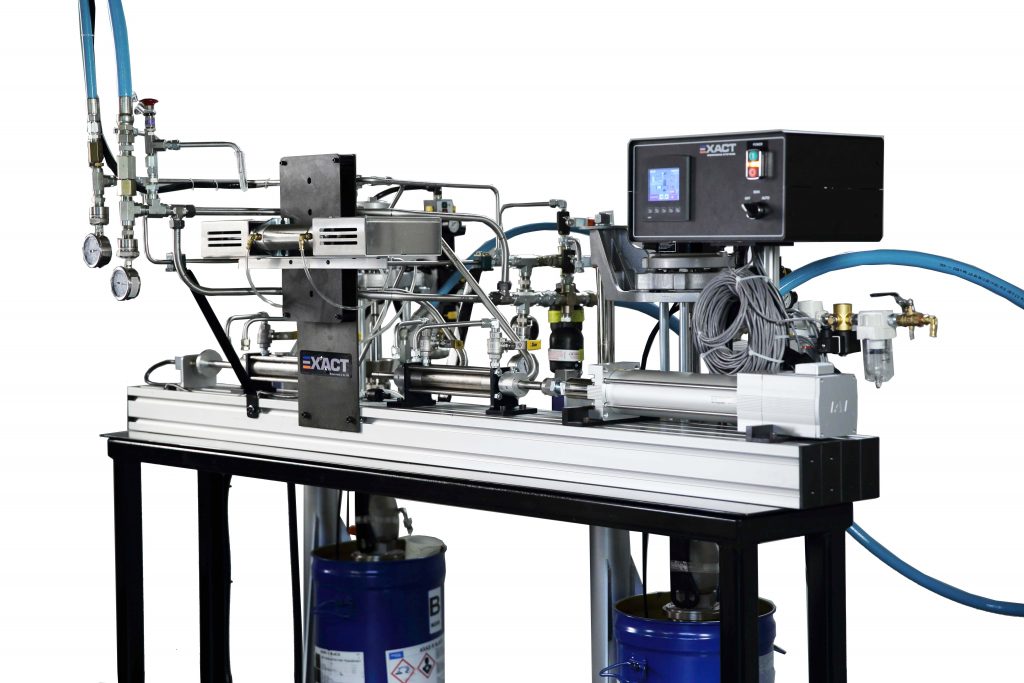 XYZ Motion Platform with Integrated Conveyor:
The increase of our customers wanting single source procurement the has EXACT excited to bring this to the table. This includes and expands capability to integrate conveyors with our motion platforms and Meter/Mix &Dispense solutions. We can source the conveyor from our preferred list of leading suppliers or you can purchase your own conveyor for EXACT integration.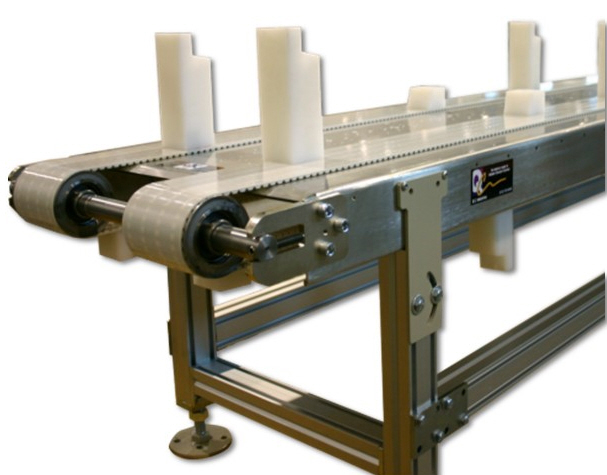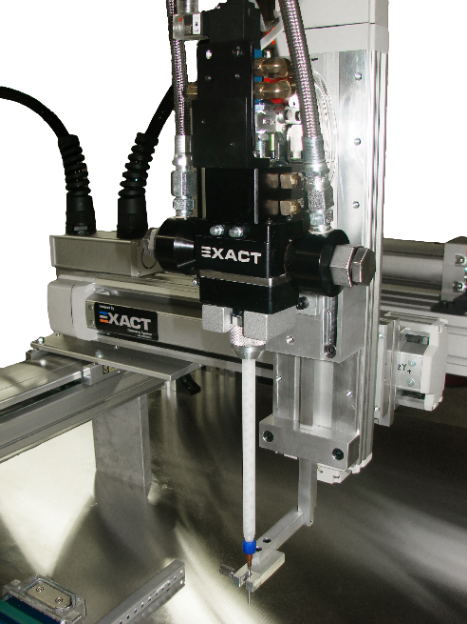 Be sure you are subscribed to our newsletter the "EXACT Exchange" to make sure you don't miss any important updates or announcements in the dispensing industry.
Gear Metering Vs. Piston Metering: Dispensing Systems Explained
When companies struggle to keep up with production, need to lower costs, improve safety, reduce their waste, or improve the quality of their products, they may need to give up their mix-by-hand method of adhesive dispensing and instead invest in a meter/mix &dispensing machine. When deciding on dispensing solutions, there are essentially two main options from which to choose: gear metering systems and piston (or cylinder) metering systems. But how do these two types of dispensing machines differ from one another? And are there similarities between the two? We'll discuss those points in today's post.
What's True of Both Types of Dispensing Machines:
Both piston / cylinder and gear metering systems are extremely precise. They each use two separate proportioning devices to operate as an integrated system. And both of these systems will typically yield greater productivity, improve the reliability of the product being made, and even reduce adhesive costs and/or result in greater profits for the company.
Gear Metering Systems
Gear pump metering systems are known for their stable, variable, and repeatable flow rates, making them incredibly accurate and consistent. There are two basic drive mechanisms for this type of system (either hydraulic or electric), but either option allows for speed adjustment on a continuous basis. They have a high volumetric efficiency and contain a few rotating parts. They're also resistant to corrosion, which means they're reliable under most kinds of chemical conditions. They may be simple, but they're preferred by many businesses due to their reliability. However, when heavily filled materials such as those with an sg above 1.5 a piston/cylinder design may be recommended.
Piston (or Cylinder) Metering Systems
There are several different variations for piston metering systems, including single-acting, double-acting, variable ratio, or fixed ratio. These metering systems can be made to for both single component and two-component dispensing. The variable ratio system that offers adjustable ratio may be preferred in a laboratory setting but is not as reliable in production as any ratio adjustment can lead to off ratio metering. While most potting compounds often have a viscosity between 400 cps and 50,000 cps, this number can be 1 million cps or more in certain adhesives or other abrasive applications. In these cases that involve abrasive fillers, piston / cylinder metering systems may be preferred. This is because they may offer a broad application range and can be used in heavily filled applications. Piston / cylinder systems can also be used for light-to-mid volume production jobs.
When trying to decide between these two kinds of systems, it's important to remember that there's no one off the shelf right answer for a given industry or even a specific application. Both kinds of metering systems offer accuracy and consistency when engineered for your specific production – process requirements. Work closely with your system provider — who can design a customized system to fit your needs — is the best way to make this determination. Every EXACT system is engineered and then wet tested to prove itself for your application.
Solar Power Module Encapsulation
APPLICATION:
A Sentinel Solar Power Module of a SignalFire Wireless Telemetry System is waterproofed to operate in outdoor applications. Consisting of a solar panel with mounting bracket, battery and high-efficiency solar charger, the Solar Power Module is used to power both the Sentinel node and attached sensor as part of a SignalFire Remote Sensing System. Read the full application story here.
EXACT Dispensing Systems Expands with New Hire
Newcastle, Maine – EXACT Dispensing Systems announced today that Ryan Ross will be joining the company as the new Systems/Mechanical Engineer.
Ryan graduated from Norwich University in Vermont with a bachelor's degree in mechanical engineering. Ryan was in the Norwich Corps of Cadets responsible for a platoon of over 30 cadets. Ryan roots are in Maine as his father lives in Boothbay, Maine and owns a restaurant in the area. He was born in Arizona and has lived in Nevada for 11 years. Ryan's new responsibilities and duties will include system technician, technical support, system documentation, R&D and technical sales support.
"EXACT is excited to be adding Ryan Ross to our engineering team. Ryan's a young engineer who will add energy to our experienced application engineering team helping us reach the next level at EXACT" stated Douglas Jaeger, General Manager.
Ryan will begin his new role at EXACT on June 1st, 2018.