Process Needs Drive System Solutions
Posted on

August 28, 2018

in News
Process Needs Drive System Solutions
At EXACT Dispensing Systems the process needs of our customers drives us to develop the system solutions needed for their success. We do not bring an "off the shelf" product to satisfy a custom requirement. From our 40 plus years of experience, we know that all Meter/Mix Dispense processes require some level of customization. Several of our product offerings are the result of a custom solution that we designed for someone's specific process needs. Below are a few customized Meter/Mix Dispense system solutions we offer.
BeadMaster – Full Production Cell or Linear Slide automation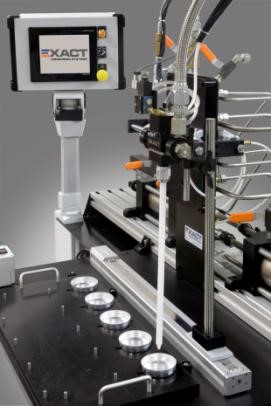 When the Meter/Mix requirement is for a more complete custom proportioner such as the servo driven BeadMaster we don't stop at the point of dispense. To automate the bead dispense system we offer a simple X-Y "linear slide" solution, which is used by many EXACT clients. For more complex automation, we also now offer a full production cell that includes the new Collaborative Robot dispensing solution option.
Learn more about the Collaborative Robot.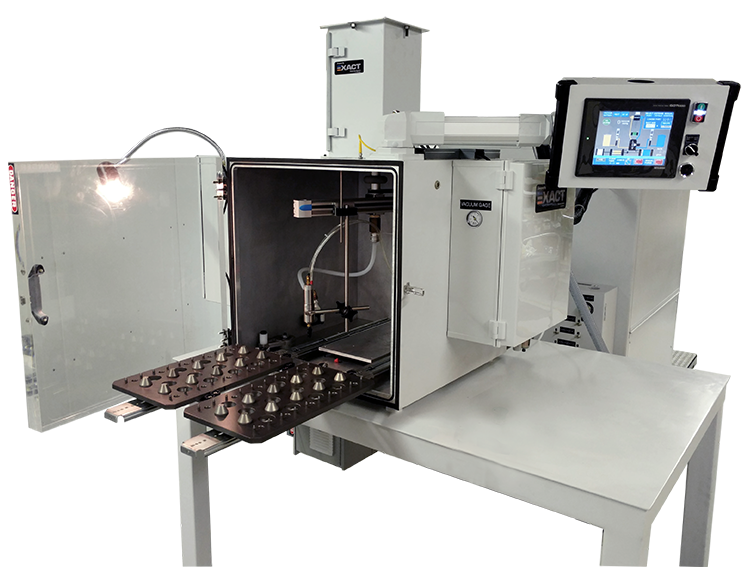 High-Density Vacuum Chamber
The need for more throughput in automated vacuum dispensing processes led to the development of our high-density vacuum chamber system where automation and improved processing speed and throughput was required.
We can also integrate with a customer-supplied conveyor. The ability to
integrate into an efficient production process is critical for maximum success.
EXACT utilizes our 40 plus years of combined experience to optimize performance results. We are never afraid to "develop" a custom component when required.
Contact us today at sales@exactdispensing.com or 207.563.2299 to discuss a solution designed to meet your specific process needs and requirements.