400 Series Autovalve – Manufactured In-house & In Stock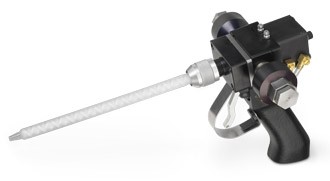 That's right…..EXACT manufactures and stocks the 400 Series Autovalve dispense valve!
Whether you need components or the complete assembly…everything is manufactured to the original specifications and are a direct swap with current versions. The 400 Series Autovalve Dispense valve is used in combination with our line of Meter/Mix and Dispense systems for mixing plural component reactive materials. This would include adhesives, epoxies, urethanes, and silicones. Providing reliability and extreme precision in fluid control, we offer top of the line products you can rely on for years to come. Their unique design allows high flow and minimal maintenance.
Inline check valve/swivels are used at the inlet ports to provide backflow protection as well as freedom of movement.
A wide range of peripheral items are available to enhance the operation of our valves, including electro/pneumatic controls, stands, and other control and fixturing devices.
Our engineers are always available to assist you in choosing the right valve for your application.