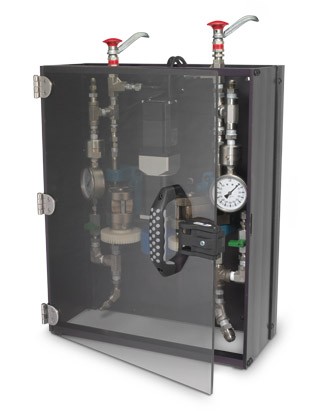 Gear Pump Metering Systems
EXACT's gear pump metering systems are for applications which require precise material flow rate control. Noted for their precision, reliability and simplicity, the unique EXACT design offers consistent repeatable flow. We develop custom precision gear pump metering systems to meet your unique production needs. With decades of experience, we go above and beyond. No other company provides the superior customer service and support like we do. From start to finish, we will ensure your Gear Pump metering system is completed on-time and with exceptional quality.
If you're interested in learning more about our custom Gear pump metering system, please don't hesitate to give us a call at 207-563-2299 today or request a quote here. We look forward to hearing from you!
Specifications:
Pump Type: Direct or spur gear driven, single stream gear displacement.
Speed: 3-180 rpm depending upon application conditions and fluid viscosity.
Various displacement sizes available and specified for your application and process.
Single and plural component combinations.
400 series Stainless Steel construction
Features:
Positive displacement metering ensures consistent performance.
Drives can range from single motor or servo for fixed ratio systems to fully autonomous drives which are linked through a closed loop control for precise, variable ratio capability.
Highly Accurate, stable, repeatable flows are assured even under varying conditions of temperature, viscosity and pressure.
Unique design offers virtually pulseless flow without valves or flexible elements to hinder performance.
Ground and lapped pump components provide precise operating clearances manufactured to tolerance of ± .00005"
High Volumetric Efficiency. Maximum efficiency is achieved with optimum operating clearances.
Corrosion Resistant. 400 Series stainless steel provides good bearing qualities and the necessary corrosion resistance for most standard chemical processes.
Maximum Life. Only three moving parts. Components are through-hardened to 54 HRC or better.
---
Options:
Various supply configurations from tanks to totes.
System carts that include tank or drum cascade supplies.
Heated zones such as hoses, supplies or High output fluid heaters.
Material Vacuum degassing
Level sensors
Agitation
Remote or fixed location dispense
---
Complete Systems:
Complete production and process integration available
Motion platform with EXACT's customizable EIC control (Enhanced Integrated Control)
Touchscreen HMI system control and monitoring
Adjustable part preset screen for numerous shot sizes