EXACT Exchange Newsletter Q4 2017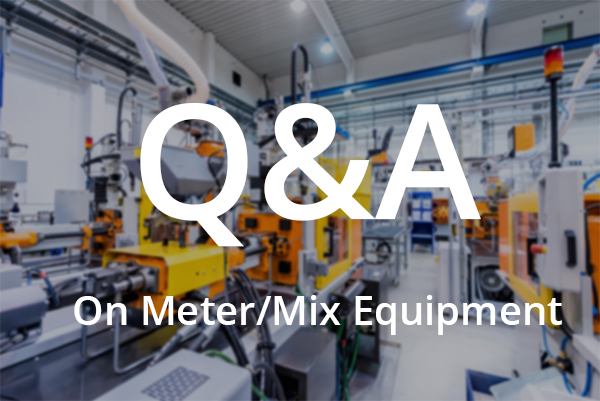 What is the recommended product maintenance (PM) for an EXACT meter mix system?
As with all metering systems, much depends upon on volumetric usage and characteristics of your formulation. With a heavily filled or abrasive material, EXACT's large volumetric displacement and numerous incremental shots per stroke reduces motion (wear). This has proven to provide longer production times and less required maintenance.
Will PM require replacement of parts?
As with any piece of equipment that has moving parts, it eventually requires attention. Indications of wear can easily be detected with EXACT's "open air" design and positive system pressure approach. Indication does not stop production. It simply notifies the operator that attention will be required at the convenience of your schedule.
How readily available are parts if they need replacement?
Most components are in stock and are available to ship. EXACT is the manufacturer of these systems from start to finish and has a full CNC machining facility to do so. We not only stock consumables but system componentry as well. "We make it so that you can have it when you need it"!
What is the reliability of the equipment?
EXACT prides itself in precision and reliability. Shot size is measured and controlled within 1150 counts per inch of stroke accuracy and ratio can easily be verified any time desired or required with a simple "ratio check" procedure that takes seconds.
Can end users perform maintenance and repairs, or does it always require a member from EXACT to evaluate?
Your choice! Plant personnel can take advantage of the free training at EXACT during the system acceptance which emphasizes operation and maintenance for your system's longevity and production process. Training at your facility as well as service calls and maintenance are available and as always, our tech team is available and free of charge over the phone!
What experience does EXACT have with mixing wide potting ratios?
EXACT has been building systems for more than 35 years with the range of ratios typically from 1:1 to 10:1 and in some cases even higher. We know materials and understand what level of attention to components in the system build is needed to assure long life including the correct heating and agitation of the material to lower the viscosity helping to make sure air free material is being delivered throughout the system. Exact Metering technologies help assure consistent results.
EXACT help with specification development, service and support is just a phone call away 207.563.2299.
Vacuum Encapsulation Chamber Demonstration
Check out this short video of Chris Conway – Director of System Solutions at EXACT give an overview on the Vacuum Encapsulation Chamber system at the CWEIME show.
Application Story – Industrial Servo Motors Stator Encapsulation
Servo motors are an industrial control product attracting more and more popularity. They provide technical advantages such as feedback control, high precision, and reliability. Manufacturing of servo motors is therefore more complicated…Read more.
New EXACT Overview Brochure!
EXACT just recently created a new overview brochure with updates to our products. To download the latest version of our brochure, click on the link below. And to ensure you remain up-to-date on all of our technology, always access our website for the most current product information. Download the Brochure.
Vacuum Encapsulation Solution
EXACT Dispensing Systems offers a line of vacuum potting systems in response to an increasing demand for dispensing environments that are free of air. Applications include potting/ encapsulating of connectors, coils and other…View the Flyer.