EXACT Exchange Newsletter Q2 2017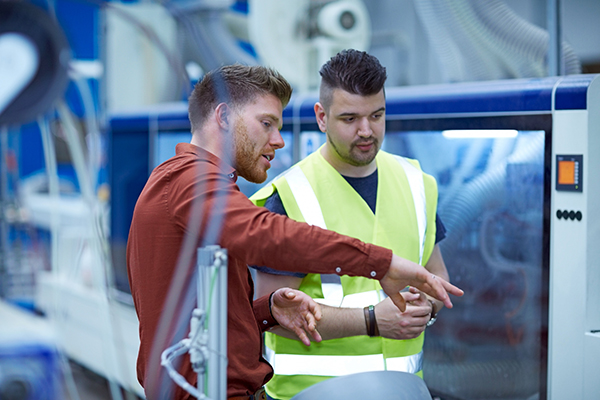 Consulting Services Differentiate EXACT In Finding the Right Dispensing Solution for an Application
EXACT Dispensing Systems takes a solutions-oriented approach in developing the right dispensing system that meets customer requirements. EXACT can start working in the early process development stages or come on board when the process is more fully defined. We can offer preliminary consultation aimed at identifying process parameters, fluid properties, budgets and other project requirements that define an application. Depending on the "Scope of Work" we are contracted to support appropriate budgets and timelines are developed.
Understanding that no two dispensing solutions are alike even for the same client, our Solution Consultation Services evaluates the needs of an application to develop a solution based on a customer's chosen material and requirements. We take into consideration every element including the need for specific types of tanks and pumps, automation, vacuum encapsulation, heated chambers, hand-operated triggers, lift systems for drums and other specifications. Our goal is developing a customized equipment solution that seamlessly enters into production.
With more than 40 years of experience working with formulators and their different chemistry types, we understand how certain chemistries react to process and environmental factors. We provide insights on developing the rights solutions for various applications using resins and adhesives. We save time and money by ensuring customers get the right dispensing solution based on a predetermined set of requirements that is demonstrated in a final wet test acceptance before final delivery.
EXACT globally supports a broad range of industries and processes including electric vehicles, solar, electronics, sensors, filters and an almost infinitely variable scope of products and processes. In addition to a primary focus on potting and encapsulation, we also extend our service to applications requiring precision bead dispensing and a host of other unique single and plural component needs and issues.
Combining our contract services with our product technology, you get more upfront value in specifying new dispensing systems or troubleshooting existing ones.
To find out more about our range of services, visit our website or contact us at sales@exactdispensing.com
Electric Vehicle Market
As the Electric Vehicle Market continues to emerge with new models each year, so does the demand for quality equipment solutions to address dispensing reactive resins as part of fabrication processes.
At EXACT Dispensing, you not only partner with a supplier for your equipment needs, you now have a hybrid resource in our Consultation Service Center for your development needs as well. Send us a request to meet with your local representative to discuss and develop your application needs at sales@exactdispensing.com.
From concept to the critical path to completion, EXACT will work with you in a professional business relationship building the solution to ensure your return on investment. As the world ramps up production of electric cars, EXACT Dispensing Systems is there with you!
EXACT Solutions for the Electric Vehicle Market:
• Electric Vehicle Motor Potting
• Electric Vehicle Battery Manufacturing
• Vacuum Encapsulation
• Work Cell Automation for Bonding
• EV Charging Station Sub-Assemblies
• Control Module protection
• Transmission Sealing and Gasketing
Get EXACTLY What You Need
Whether your dispensing needs are simple or complex, by listening to our customers, we can configure the best and most cost-effective solution for your specific application. Our primary goal is for you to get a system that meets your needs and ultimately improves your productivity, product quality, and bottom line. Our sales engineers will walk you through the process of selecting EXACTLY what the application calls for and keep you on budget.
From a simple table-top machine to an integrated engineered system, we offer a full line of single- and multi- component adhesive dispensing solutions for your manufacturing processes:
•Inline Piston Metering Systems
•Servobead Metering Systems
•Gear Pump Metering Systems
•Cartridge Metering Systems
•Vacuum Encapsulation Systems
•XYD Dispense Motion in One Control
Customer Satisfaction
We pride ourselves on our "Wet Test Program" where even the simplest systems are tested with the user's resin. Simulating the production solution before the system is installed ensures complete satisfaction and provides customers the opportunity for hands-on product training.