EXACT Exchange Newsletter Q3 2017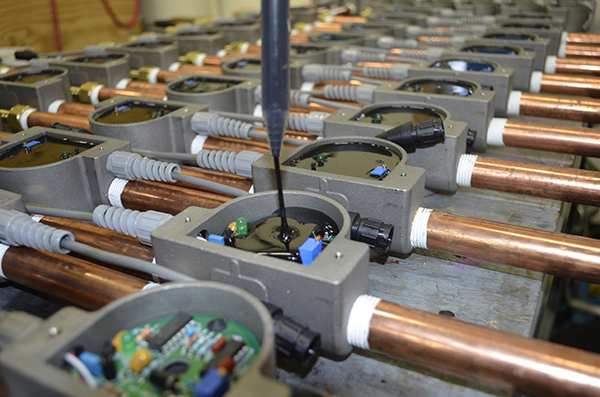 Potting Solutions – Protecting Electronic Circuits
The terms "Potting and Encapsulation" are often used as generic terms to describe the complete coverage of electronic components with a reactive formulation. One of the critical steps in choosing a complete "solution" is to prioritize the requirements for both the product, as well as the production of your electronics. Chemical or abrasion resistance, thermal dissipation, flame retardancy, etc. are factors to consider as you select the correct formulation. These properties affect the equipment design as well. Your formulator can assist you with the chemistry aspect and EXACT can assist in providing you with the right over-all solution.
When fillers are used with a selected epoxy to lower shrinkage or enhance dimensional stability and improve abrasion resistance it is critical that the characteristics of the filler be well understood. Some fillers are very detrimental to equipment for numerous reasons including packing (impaction), hardness, shape and how quickly they may fall out of suspension within the epoxy. EXACT develops its processing solution with these factors evaluated and included. Failure to do so can be VERY costly when production or quality is impacted by premature failure usually causing off ratio, non-curing material to be dispensed. Lesser "off the shelf" system offerings can suffice initially, but wear sooner and struggle to provide ratio reliability production requires.
During application, the reactive potting material must flow easily so that it completely envelopes the components. If air is trapped, the component(s) becomes subject to premature failure. Removing air bubbles from a low viscosity formulation may not be difficult. However, when more viscous formulations are used that typically comprise of higher filler percentages, vacuum degassing becomes a necessary consideration. EXACT can help determine if simply degassing the compound part A and Part B is adequate or if it is necessary to "dispense under vacuum" using one of the EXACT VC vacuum chamber options. Typically, the higher viscosity, the greater the need for some form of degassing conditioning.
Competing demands for higher performance, enhanced product reliability and lower unit costs are driving electronic circuit designers to view potting solutions as an essential ingredient in electronic systems and devices. By contacting EXACT Dispensing Systems early in the development process you can be assured that not only will you have the information needed to select the right potting compound but the most effective meter-mix dispense system solution.
Click here to get in contact with our application engineering experts.
Cryogenically Tempered, Precision Honed Where It Counts
Can you tolerate downtime? Abrasive formulations can be "cruel" and costly to repair. EXACT Dispensing Systems uses applied science at the molecular level by Cryogenically Tempering cylinder bores. This process increases the crystalline structure of the tool steel, thus increasing service life and durability!
Save the Date: Oct. 3-5, 2017
EXACT will be at the CWIEME show in Chicago on October 3-5, 2017. CWIEME is the leading exhibition for coil and winding, electric motor and transformer manufacturing technologies.
Come and stop by our booth B44 to meet our experts & see one of our VC-24 chambers. Click here to get your free ticket.