EXACT Exchange Newsletter Q3 2019
Can EXACT Dispensing do THAT?
The answer is Yes – EXACT Dispensing CAN do that!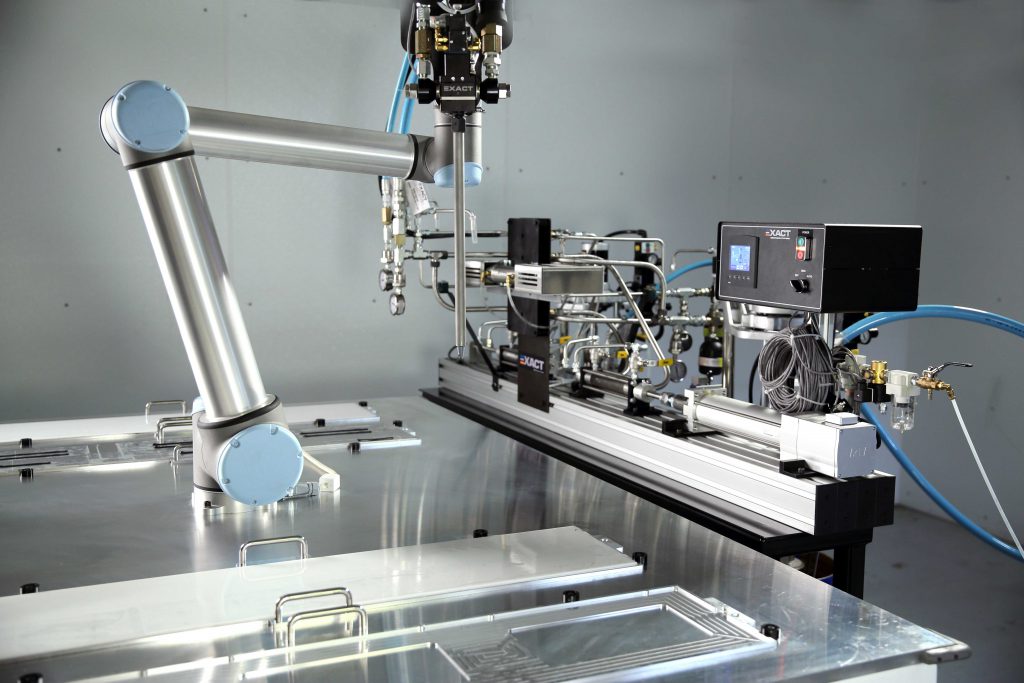 Potting and Encapsulation of electronics (both large and small) using 2-part resins is an application where EXACT Dispensing Systems excels. Satisfied customers return to EXACT for new systems year after year due to the rugged reliability and on-ratio performance promised by an EXACT system. The long life and production proven LDV ("linked diverter valving") approach to the EXACT inline positive displacement metering solution is one of the keys to our success.
EXACT has expanded on that core capability with the BeadMaster, that uses a linear servo drive that controls rate and volume dispensed. Combine this with "vacuum potting" accessories and systems and EXACT can offer a solution for nearly any production requirement…
Read More
Subscribe to our Emails

Previous Newsletters:
Is GMP (Good Manufacturing Practice) part of your standards to produce consistent products?
See a visual Return on Investment and Payback in the Quality of your finished goods.

"EXACT 80's"
Minimize the risk of unpredictable results by preconditioning your 55-gallon bulk drums of reactive materials with EXACT Dispense Systems 80-Gallon Process Reservoirs.
Transfer the contents of your entire 55-gallon (200-liter) bulk supply drum into an Exact 80 to blend, homogenize and condition the materials Before they are applied to your finished product.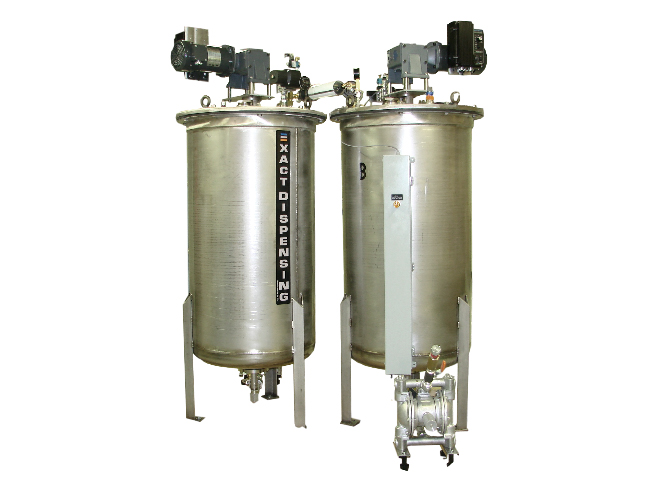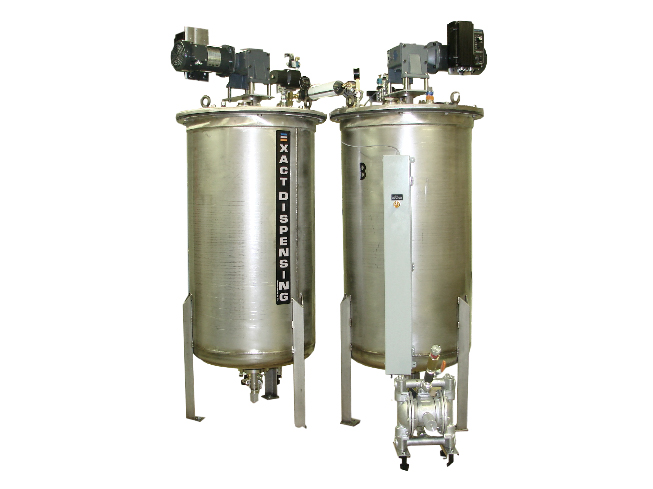 Options Include:
Overload protected, variable speed, heavy duty Electric Agitators
Non wetted Level Sensors (Low-Mid-High)
Heating Jacket with digital set controls
Site Windows for viewing process and levels
Vacuum Degassing valves with Desiccant and Nitrogen inlets
A range of Process Controls, Pump accessories and custom internal configurations
Read More
EXACT Provides Warm Melt Adhesive Dispensing Systems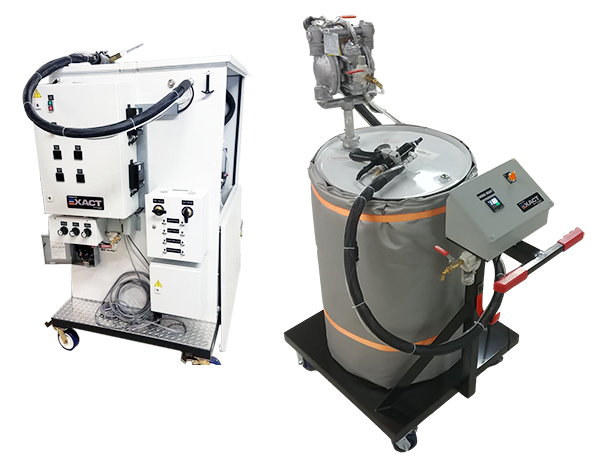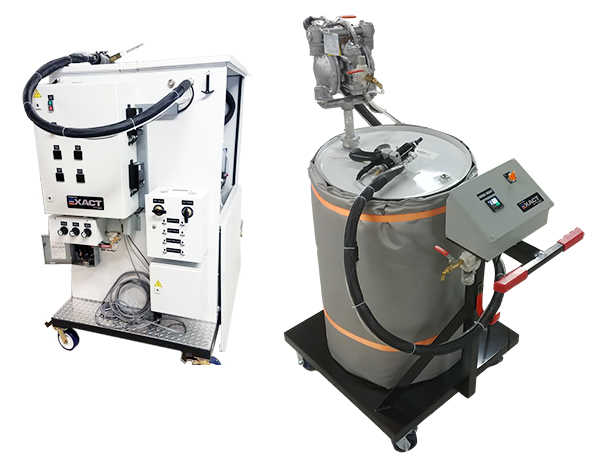 EXACT Dispensing Systems offers a variety of "warm melt" dispensing system solutions for materials that need to be warmed in order to properly dispensed. From a small tank to an elaborate bulk material feed system, EXACT can provide a customized warm melt dispensing solution to deliver your material at the right temperature for maximum performance. We incorporate a variety of components to ensure the warmed material maintains the proper temperature all the way through the dispense head, including:
"Hot Box" Heated Dispense System
Tank & Drum Heaters
Heated Outlet Hoses
Heavy-duty Agitators
Level Sensors (Capacitance)
Clear Viewing Port
An example of possible systems, EXACT's Melt Dispensing System (MDS) is an economical solution for low temp melt/dispense applications, such as thermal management materials. The system provides digitally controlled temperature zones of temperatures between 75° and 150°F.
When you bring an application problem to EXACT Dispensing Systems for a "Dispensing Solution" we are ready to investigate all options to solve your problem.
Come See Us at the Coil Windings Show: September 17-18
Come and visit EXACT at the Coil Windings CWIEME Show September 17-18. We are demonstrating the VC24 vacuum chamber with internal XY motion. Stop by Stand F30 and ask for one of our Lobster pens.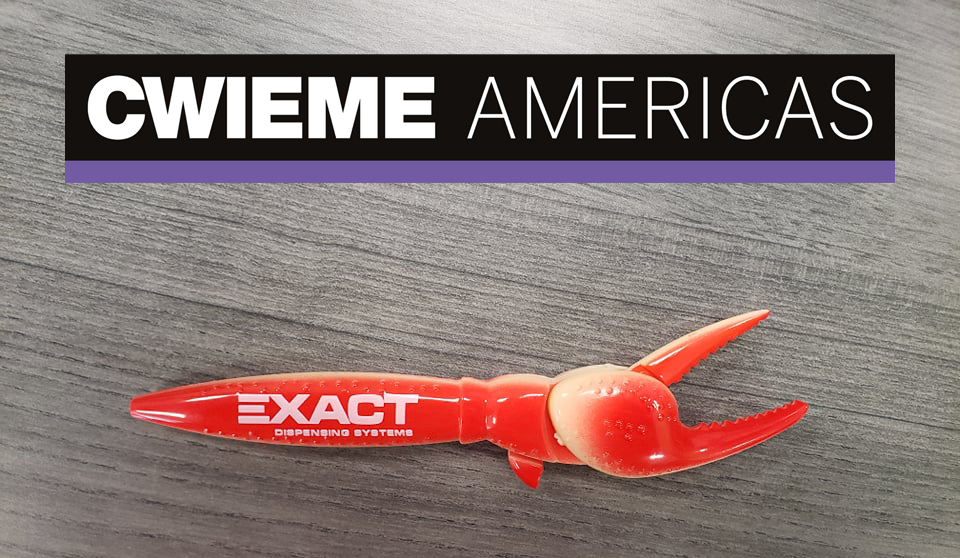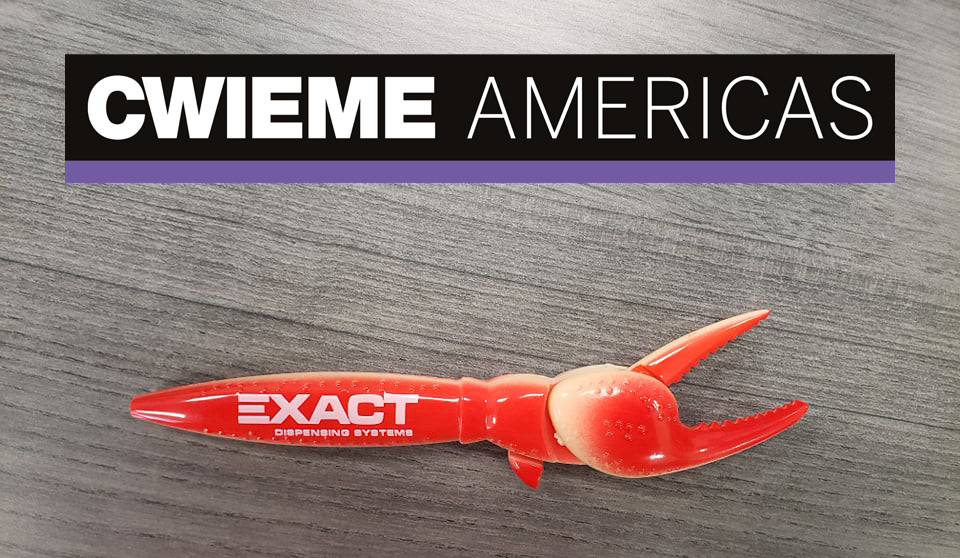 Register Here
Nicole Wilson Promoted to EXACT Inside Sales Manager
In the role of Inside Sales Manager, Nicole is replacing Nancy Dewall who many customers know because she held the position for many years. Nicole is very well qualified to step into the position, coming from a key accounting, purchasing and customer service role within EXACT. Nicole has been with EXACT since 2005 and is looking to continue the excellent service and support standards at EXACT.
Nicole has lived in Mid-Coast Main her entire life. She and her husband of almost 15 years, Cyrus, have four children (Mackenzie – 15, Sam – 14, Ethan – 10, and Derek – 6). In her free time she enjoys camping with her family, swimming and watching her kids' sporting and school events.
Please join us in welcoming Nicole into her new position with EXACT. She can be reached at nwilson@exactdispensing.com