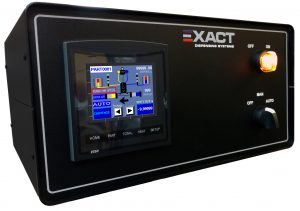 Controllers & Consoles
Most metering systems are easily controlled with the "EC" EXACT Control HMI. If you have special requirements, EXACT has numerous custom design control configurations to meet your needs.
---
EXACT Control Console
Same Great Quality with Increased Capability!
The EXACT Control (EC) Console is now standard with many of our Meter-Mix solutions. The EC enhances the look and capability of EXACT's dispense systems with simplicity and intuitive color touch screen control.
This new design allows the operator to access, control and monitor all of the peripheral aspects of the EXACT system with room to expand.
No more autonomous controls, the EC brings it all to your fingertips in one console!
Standard Features:
20 programmable shot sizes
Automated shot correction
Full color graphics touch screen HMI
Material usage monitoring
Password protection capability (various Lock levels)
Dispense valve and cylinder position indication
SD card compatibility for easy data backup/restore and program updates
Expandable Capability:
Heat zones with audible alarms
Temperature monitoring with audible alarms
Low level audible alarms with graphic indicator
Automated mixer purge with pre-purge warning