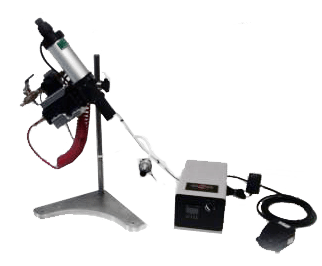 Bench Top Cartridge Dispenser
Cartridge dispensing with improved performance. Capability of continuous pressure ensures ratio control. Converts dual or single cartridge system to an automatic, hands-free dispenser.
---
Specifications:
50 - 1500 ml units, available in popular ratios
---
Features:
Reduces operator fatigue
Simple to assemble and operate disposable wetted components
Consistent mixed material delivery from start to finish of the cartridge set
Hands free dispensing controlled by foot pedal or digital timer console
Can easily transform from a bench top small shot delivery system to a hand held device in seconds with our unique docking station
A & B components are mixed in a disposable static mixer
Flexible mixed material whip line and needle tips available
Comes complete with pneumatic plumbing, gauges, regulator, recharge switch and foot pedal
Constant, maintained pressure on cylinder set provides greater ratio and shot size control
Our unique design provides greater ratio and shot size control
Minimal maintenance and virtually no clean-up
Cost effective, completely portable
---
Options:
Hand Held
Handheld
Plural component dispense by air pressure
Time and Pressure Control
Plural component dispense by air pressure
Either handheld or in a stand
Includes timer control console that allows operator to dispense a manual shot or timed shot
Timer is accurate to 1/10 of a second
Digi-Shot Cartridge Dispenser
Economical controlled shot size in a table top package. Add your cartridge and start dispensing today! Click here to learn more.